Battle of Lund 7 - Resultat
Posted by ASKARI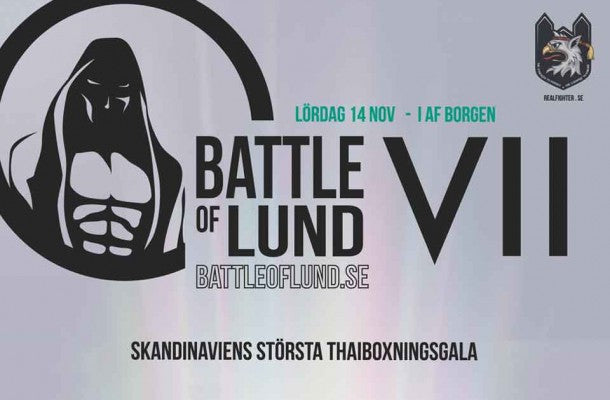 Nordens största thaiboxnings-event Battle of Lund hade ett storslaget event med flera spännande matcher igår den 14e november 2015.
Plats:
Lund, AF-Borgen.
Datum:
Lördag 14 nov 2015.
Battle of Lund
körde sin 7e upplaga och hade med flera top fighters från både Sverige och utomlands. Det var 3 titelmatcher om
WKN-bältet
där dom
Europeiska
,
skandinaviska
och
svenska
titlarna stod på spel. Dessutom hade dom en
A-klass
match med
full muay thai rules
match med armbågar och flera B-klass matcher. Sverige har nu fått tre nya WKN mästare och dom gjorde det på ett väldigt imponerade sätt.
Kittisak Noiwibon
mötte
Jakub Dobias
för andra gången och avslutade matchen med en knock, precis som första gången på MTA 6. Denna gången träffade Kittisak en hård spark mot kroppen som gjorde att Jakub aldrig ställde sig upp igen.
Marcus Sundin Liljedorff
vinner över norrmannen
Anders Fossum
efter en galen och vild första rond med flera slagväxlingar där det slutade med att Marcus Liljedorff
knockade
Anders Fossum med en hård höger krok.
Vi hade även årets krig - matchen mellan
Malik Sellam
mot
Arian Behrami
där det var nonstop action med mycket fin boxning från båda sidorna. Viljan och tekniken var större hos
Malik Sellam
och han blev den nya svenska WKN mästaren.
Se film på hela eventet genom att klicka här
RESULTAT
Kittisak Noiwibon
vinner över
Jakub Dobias
- (KO R1) Super lightweight WKN European title fight 66,7kg
Marcus Sundin Liljedorff
vinner över
Anders Fossum
(KO R1) – Middleweight WKN Scandinavian title fight 76,2kg
Malik Sellam
vinner över
Arian Behrami –
(Poäng) Super welterweight WKN Swedish title fight 72.6 kg —
Elna Nilsson
vinner över
Marina Zarogianni
– (Poäng) 60kg, A-klass (Full muay thai rules)
Josefin Lindgren Knutsen
vinner över
Therese Gunnarsson
(Poäng) – 51kg, B-klass
Henrik Paulsson
vinner över
Keiwan Adibi
– (Poäng) 81kg, B-klass
Fredrik Winter
vinner över
Andreas Iversen
– (TKO R3) 75kg, B-klass
Joakim Hägg
vinner över
Burim Rama
– (Poäng) 75kg, B-klass
Rafaat al Maliki
vinner över
Rasmus Wiberg
– (Poäng) 63,5kg, B-klass
Jiar Ali
vinner över
Idriss Chab
– (KO R1) 63,5kg, B-klass
Marcus Sundin Liljedorff efter sin K.O. vinst över Anders Fossum.
Reviews (3 comments)
Collection 2019
Sale 70% Off
Title for image