Battle of Lund 7 - Trailer och full fightcard(Uppdaterat)
Posted by ASKARI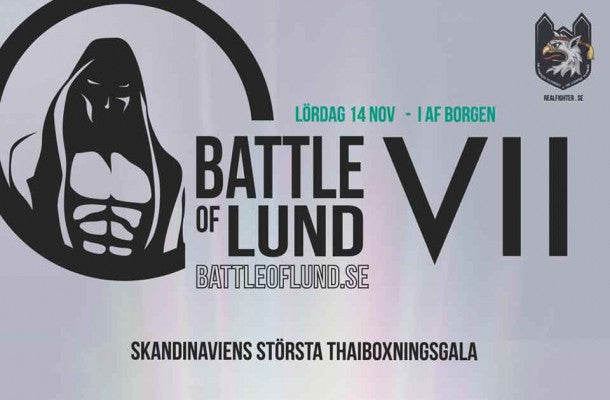 Nordens största thaiboxnings-event Battle of Lund kör igång igen med flera A-klass matcher(full muay thai rules) och 3 styck titelmatcher den 14e november 2015.
Plats: Lund, AF-Borgen. Datum: Lördag 14 nov 2015 19:00.
Battle of Lund
kör sin 7e upplaga och har med flera top fighters från både Sverige och utomlands. Det kommer vara 3 titelmatcher om
WKN-bältet
där dom
Europeiska
och
Scandinaviska
titlarna står på spel. Dessutom kommer det vara flera
A-klass full muay thai rules
matcher med armbågar och B-klass matcher.
FIGHTCARD:

(UPPDATERAD)
Kittisak Noiwibon
VS.
Jakub Dobias
- Super lightweight WKN  European title fight 66,7kg
Marcus Sundin Liljedorff
VS
.
Anders Fossum
- Middleweight WKN Scandinavian title fight 76,2kg
Arian Behrami VS. Malik Sellam -
Super welterweight WKN Scandinavian title fight 72.6 kg --
Elna Nilsson VS. Marina Zarogianni
- 60kg, A-klass
Viet Hoang VS. Julian Bengtsen
- 57kg A-klass
Therese Gunnarsson VS. Vasia Fragostefanaki
- 51kg, A-klass --
Henrik Paulsson VS. Keiwan Adibi
- 81kg, B-klass
Andreas Iversen VS. Frederik Winter
- 75kg, B-klass
Burim Rama VS. Joakim Hägg
- 75kg, B-klass
Rasmus Wiberg VS. Rafaat al Maliki
- 63,5kg, B-klass
Idriss Chab VS. Jiar Ali
- 63,5kg, B-klass
Trailer:

Collection 2019
Sale 70% Off
Title for image