Glory World Series - Champions - Vilka är dom?
Posted by ASKARI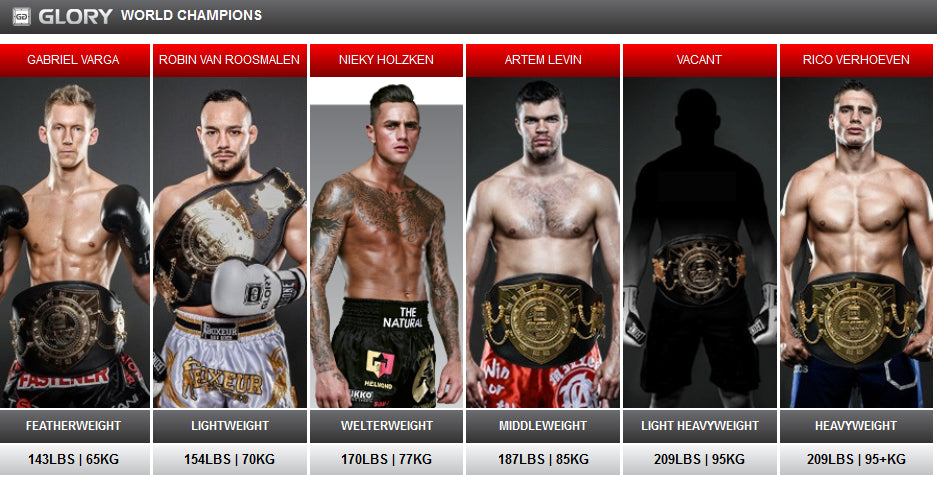 Glory World Series är världens största kickboxning-liga med flera högt rankade fighters och mästare som ingen annan organisation har. Varje månad bjuder Glory på matcher som har onekligt nutidens bästa underhållning.
Här presenterar vi varje mästare och deras bakgrund.
Gabriel Varga - Featherweight champion
Han har 5-1 i Glory och
26-2
totalt. Gabriel kommer från Kanada, väger in på
64.70 KG
och slåss med ortodox stance. Vid
Glory 17
slog han ut
Yodkhunpon Sitmonchai
och
Shane Oblonsky
vid
Featherweight Contender Tournament
där vinnaren skulle bli erbjuden om att få slåss om titeln.
Mosab "The Jaguar" Amrani
blev motståndet om titeln och
Gabriel Varga
slog ut honom på poäng i en *Fight of the year* match. Hans nästa match är den 19e augusti på
Bellator MMA & Glory: Dynamite 1
och det är
Serhiy Adamchuk
som står för motståndet, som har vid Glory 22 visat en imponerande inställning då han tog en match under 24-timmars notis och slog ut titelutmanaren
Marat Grigorian.
Robin van Roosmalen -
Lightweight champion

Nickname - Pokerface
En av Hollands mest kända fighter, Robin van Roosmalen, slåss i
70 KG
klassen och har ortodox stance. I Glory har han 10-2 och totalt
34-6
, med vinster mot
Andy Ristie, Davit Kiria, Dzhabar Askerov
m.fl. i bagaget. Hans resa i Glory började i
Glory:STOCKHOLM
där han vann mot
Dzhabar Askerov
via poäng. Resan fortsatte och vid
Glory 12:NEW YORK
så åkte han ur turneringen mot Andy Ristie i finalen om vem som skulle bli erbjuden en titelmatch. Vid
Glory 18: Oklahoma
fick Robin en chans om titeln, fast denna gången mot
David Kiria
, som han redan vunnit över 2 gånger innan. Efter 5 hårda ronder så vinner Robin van Roosmalen bältet via poäng och har efter det försvarat titeln två gånger.
Nieky Holzken - Welterweight champion Nickname - The Natural Det är inget konstigt att Holland har ännu en mästare i organisationen. Nieky Holzken slåss i 77 KG och är ortodox. Nieky är mest känd för sin boxning, då det har sagts vid flertal gånger av sparrings-partners, att det känns som att sparra mot en tungviktare. Han har 9 raka vinster i Glory och 87-11 totalt. Ändå sedan han började göra ett namn i K1 för många år sen så har han inte slutat leverera. Förluster mot Buakaw, Andy Souwer och Artur Kyshenko har gjort han mer erfaren och har kört över alla motståndare efter dess. I Glory besegrade han Raymond Daniels och tog bältet i welterweight. Bältet är vakant tills vidare, då *Bazooka* Joe Valtellini, som var mästaren innan Nieky, tillfälligt lämnat över sitt bälte. Anmärkningsbart är att Nieky knockade Joe Valtellini under Glory:13 TOKYO med en vänster-krok i tredje ronden.
Artem Levin - Middleweight champion Nickname - The Lion Rysslands mest meriterade thai boxare har dominerat i princip vartenda motstånd som har kommit framför han. Med ett imponerande record på 83-7 och betydligt många mer vinster i alla amatörturneringar(IFMA) han vunnit.(6 gånger VM-guld medaljör). Dom som har hittat Artem Levin's Akilles häl är Simon Marcus och Joe Schilling som båda har besegrat han. Senaste matchen mot Simon Marcus i Glory:21 San Diego slutade i en draw, och var en mycket jämn match där båda parterna tyckte dom vann. Vi får se om det blir en returmatch snart.
? -
Light heavyweight champion
Ännu finns det ingen lätt-tungvikts mästare i Glory och vi får tålmodigt vänta tills
Bellator MMA & Glory: Dynamite 1
som kommer hållas i
San Jose, Californa, U S A den 19e
september.
Main event för denna gala är ingen mindre än
Saulo Cavalari
(31-2) mot
Zack Mwekassa
(13-2) som kommer slåss över att bli Glory's Light Heavyweight-champion. Saulo Cavalari har 19 (T)KO av 33 matcher och kommer från Brazilien, medans Zack Mwekassa från Kongo har vunnit på (T)KO 12 av sina 13 vinster
Ni kan läsa mer om Bellator MMA & Glory: Dynamite 1 här.
Rico Verhoeven -  Heavyweight-champion Nickname - Prince of Kickboxing Ännu en mästare från Holland, Rico Verhoeven, väger in på ungefär 118 KG och har ortodox som stance. Han har 9-1 i Glory och 46-10 totalt, där han har vinster över Peter Aerts, Errol Zimmerman, Daniel Ghiță och Gökhan Saki. Under turneringen i Glory 11:Chicago tog han Daniel Ghiță och Gökhan Saki under samma kväll och vann sin chans att få slåss om titeln mot Peter Aerts, där han på poäng(split decision) vann titeln "Heavyweight-champion"
Här är lite matcher med alla champions i Glory World Series:
GLORY 20: Mosab Amrani vs. Gabriel Varga
GLORY 20: Robin van Roosmalen vs. Andy Ristie
Nieky Holzken vs Raymond Daniels GLORY 23
GLORY 21: Simon Marcus vs Artem Levin
GLORY 22: Rico Verhoeven vs Benjamin Adegbuyi
Collection 2019
Sale 70% Off
Title for image