Yokkao 14 & 15 denna helg! - TRAILER & FIGHTCARD
Posted by ASKARI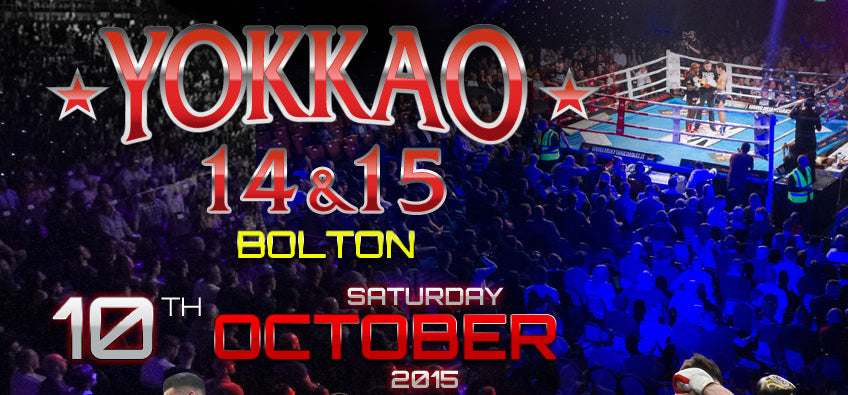 Yokkao 14 & 15 kommer vara i Bolton, Storbritanien den 10e oktober. Fightcardet innehåller några riktigt tunga matcher med fighters som Saenchai, Liam Harrison, Singdam Kiatmoo9 och Jordan Watson.
I senaste
Yokkao 13
så hade vi
Sanny Dahlbeck
(29-9) som knockade
Jordan Watson
(43-11) i fjärde ronden och blev
Yokkao -70 kg champion.
Nu kommer dom ha två galor på samma kväll ( Yokkao 14 & 15 ) och kommer vara en av årets största event med ett riktigt tungt fightcard med fighters som Saenchai, Liam Harrison, Singdam Kiatmoo9 och Jordan Watson.
Jordan Watson
skulle möta från första början möta
Crice Boussouku
men efter ett par problem hos Crice's gym så fick dom lägga den matchen åt sidan. Nu stiger istället
Jordann Pikeur
från
Mikes Gym
i Holland in och får stå för motståndet mot den hungrige
Jordan Watson
.
Så här säger YOKKAO President Mrs. Doungjai Tananan om matchen: "We have a responsability to all our fans, after that Crice Boussoukou left Team Nasser-X, we were not sure about his continued participation at this event. In addition his way of adding requests to our team was not professional at all. We have worked with more than 300 TOP fighters since 2011, for us, to be a professional fighter means not only to be one in the ring but also in life."
Jordan Pikeur
deltog under senaste
K-1
turneringen i Japan där han vann mot både Daiki Watabe och den nuvarande mästaren i Yokkao Sanny Dahlbeck. Han vann silver efter att i finalen ha blivit knockad, men efter 3 hårda matcher under samma kväll visar bara att han är stenhård. Både Jordann Pikeur och Jordan Watson kommer från en förlust och är hungriga att få vinsten hem med sig, vilket vi tror kommer sluta med en hög-explosiv match från början till slut.
Saenchai PKSaenchaimuaythaigym
skulle egentligen möta
Greg Wootton
på
Yokkao 14
men Greg skadade revbenet under sparring och var tvungen att dra sig ur. Istället kommer
Saenchai
få möta den unga talangen
Massaro Glunder
från Holland. Han tävlar i 65 kg och har kört över dom flesta, inklusive Japanska kickboxaren
Masaaki Noiri.
Massaro Glunder
tränar på den världskände
Mikes Gym
och är ännu ett tillskott i deras väletablerade fightgym.
Fightcard:
** YOKKAO 14 **
Saenchai PKSaenchaimuaythaigym vs Massaro Glunder
-65kg
Josh Turbill vs Reece McAllister
-70kg
Keith McLachlan vs Ian Houillebecq
-61,5kg
Myk Estlick vs Mike Bateman
-65kg
Joe McGovan vs George Davies
-85kg
Jack Kennedy vs Michael McGeachan
-65kg
** YOKKAO 15 **
Liam Harrison vs Singdam Kiatmoo9
-65kg
Christopher Shaw vs Karim Bennoui
-61,5kg
Jordan Watson vs Jordann Pikeur
-70kg
Jake Purdy vs Soloman Wickstead
-72,5kg
Jack Fallon vs Luke Imeson
-70kg
Brian Totty vs Tommi McCormick
-65kg Trailer:
Collection 2019
Sale 70% Off
Title for image