【Video】Tyson wannebe blir knockad efter ha bitit sin motståndare i örat!
Posted by ASKARI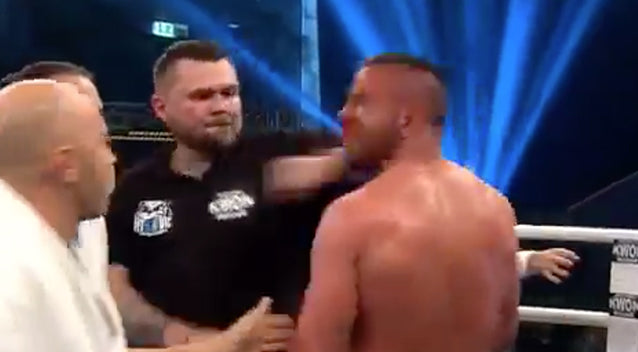 En Tyson-wannabe biter av örat på sin motståndare, men slutar med att han blir knockad av tränaren!
Det var kaos i München när den österrikiska boxaren med albanskt ursprung Astrit "The Tiger" Klimenta drog en Tyson på sin motståndare genom att försöka bita av örat på honom. Serben Andrej Pesic som stod för motståndet höll på att vinna matchen och Astrit blev frustrerad av det och tog till fulspel genom att bete sig som ett djur genom att bita honom i örat. Astrit blev snabbt diskvalificerad av domaren, men det roligaste av allt är att Andrej Pesics tränare  var snabbt inne för att konfrontera Astrits osportsliga beteende. Alexander Petkovic som är Andrejs tränare stormade in i ringen och blev själv snabbt attackerad av Astrit av vad det ser ut som en halvmiss. Alexander Petkovic svarar dock snabbt med en stenhård vänsterkrok som sänker Astrit totalt!
Alexander Petkovic
som nitade Astrit är en tungviktsboxare med hela 50-8 i record. Så här sa han efteråt om händelsen:
"He was expecting a right," said the trainer. "But I took a step back and hit him with a left hook to the chin."
Så här svarade senare Astrit Klimenta via sin Facebook senare:
"It's a scandal or not, I do not know," he wrote. "But I can say that they were not acting in a sportive manner even before the fight. They made harsh racist insulting against me and my nation and I could not be stright on the ring, I did not felt well in psychological aspect, although I tried to stick to the maximum, but I did not and this can not be changed . But, on the other hand I could not let they to continue insulting me and my nation."
Se videon på när
Astrit Klimenta
och
Andrej Pesic
ryker ihop, samt när Mike Tyson biter av örat på Evander Holyfield längre ned!
Askari Muay Thai Shorts - Kommer snart!
 

Astrit Klimenta VS

Andrej Pesic
MIKE TYSON BITES HOLYFIELDS EAR CLEAN OFF
Collection 2019
Sale 70% Off
Title for image