Fightcard - Battle of Lund 8 (UPPDATERAD)
Posted by ASKARI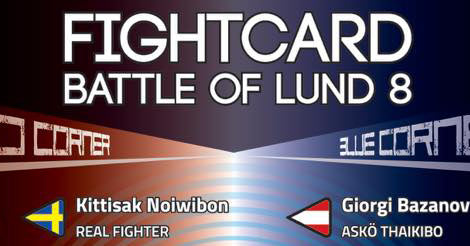 Ett av Nordens största thaiboxningsevent Battle of Lund återvänder den 12e november.
Den 12e november 2016 i AF borgen i Lund så kommer Battle of Lund 8 köra igång med ännu ett imponerande event att se fram emot. Battle of Lund är en av Nordens största thaiboxningsevent och ordnar alltid högkvalitativa matcher. Dem kommer att ha flera top fighters från Sverige och utomlands i både A-Klass och B-Klass matcher.
En titelmatch står på spel där Kittisak Noiwibon från Real Fighter ska möta Giorgi Bazanov om -67kg WKU titeln. Sedan är det hela sex full Muay Thai Rules matcher med armbågar i 5 x 3 minuters ronder, där vi kommer bl.a att se Johanna Rydberg, Abdou Karim Chorr med fler att delta. Se komplett matchkort nedanför. Reservera för uppdateringar.
Battle of Lund 8 - Fightcard
-67kg WKU WORLD CHAMPION TITLE FIGHT
Kittisak Noiwibon (Real Fighter) vs Giorgi Bazanov (Askö Thaikibo)
Full Muay Thai Rules A-Klass 5x3 min
-52,5 kg - Johanna Rydberg (Helsingborg MT) vs Siiri Tura (Helsinki Thaiboxing Club) -75 kg - Burim Rama (C4) vs Frederik Winter (Sorrachan) -71 kg - Abdou Karim Chorr (Sweden Top Team) vs Vladimir Konsky (NVR GYM) -57 kg - Elna Nilsson (Real Fighter) vs Anaelle Angerville (Lion Thais) -63,5 kg - Filip Waldt (Lejonkulan) vs Daniel Lopez (Frontline) -75 kg - Björn Arvesen (Real Fighter) vs Marley Zwanenberg (Team Tieu)
Muay Thai A-Klass 3x3
-73 k - Guram Kutateladze (Redline TC) vs Anghel Cardos (Friends Gym)
Muay Thai B-Klass 5x2 min
-67 kg - Gustaf Cedermalm (Real Fighter) vs Mihram Babayan (Team Dinamite) -54 kg - Josefine Lindgren (All Stars) vs Anne Line Hogstad (Frontline) -63,5 kg - Idriss Chab (Real Fighter) vs Nasim Kazem (Lejonkulan) -81 kg - Keiwan Adibi (Halmstad MT) vs Morten Kevin Schmidt (Siam MT) -75 kg - Jesper Höwing (Warberg) vs Adelino Diogo (Team Dinamite)
Reviews (1 comment)
Collection 2019
Sale 70% Off
Title for image