Buakaw Banchamek möter Niclas R. Larsen på All Star Fight 3 [Uppdatering: INSTÄLLD]
Posted by ASKARI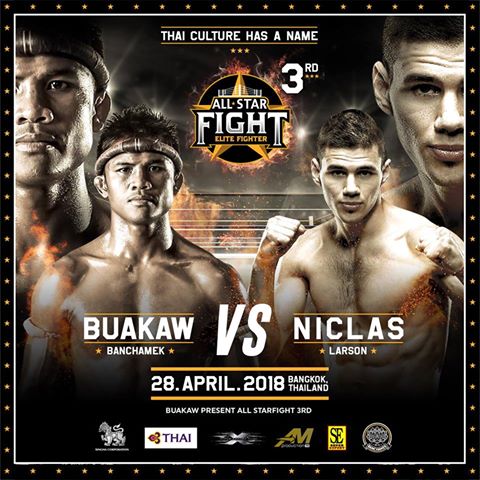 Buakaw Banchamek vs Niclas Larsen på All Star Fight 3
--
Matchen har blivit inställd.
Niclas Larsen:
Sad news !!! Niclas R. Larsen has withdrawn himself from his upcoming mega-bout with Buakaw due to Niclas falling foul of a terrible skin infection.

Niclas's statement below: "I hereby announce that my fight against buakaw to all-star fights is cancelled.

Sunday the 15.4.18 I went to the hospital because I felt, my skin was burning, headdeche and had fever.

At the simitvej srinakarin hospital they could conclude that I had a steph/strephocok bacteria on the skin. I had some big wounds on my neck, arm and body that needed to get treatment.

They gave me strong antibiotic for 5 days and then it should be ok.

Today I went back for a check up at the hospital but for my bad luck I had to stay on the medicine at least 5 more days, my wounds is looking better but they won't be healed until the 28.4.18 I would put my own and buakaw health in danger if I would still be fighting that night.

I'm so sad about missing this big opportunity.

This is a dream fight and I wanted this to happent for many years.

I'm truly sorry to cancel the fight on such short notice I wish I could do something but I just can't !! Buakaw and all-star fight promotion I'm truly greatfull that you saw me as a rightfully opponent and I'm so sorry and embarrassed that I have to cancel this great opportunity. I wish of all of my heart that I'll get a chance to fight this legend someday and hope you will give me the chance again in the near future." Niclas Larsen
-- Lördagen den 28e april går stapeln av för All Star Fight 3 i Bangkok. Det blir tredje upplagan för ASF, och som tidigare galor dem haft så fyller dem eventet med topp-fighters. Denna gången blir det ingen mindre än Buakaw Banchamek, som dessutom är promoter för själva galan, ställa upp på kortets huvudkort mot dansken Niclas Larsen. Niclas Larsen stiger in som underdog i denna match och har ett fight-record på
48-10-2 (25 KO). Han är rankad #6 Lightweight i Glory World Series och hans senaste match var på Glory 40, där han besegrade thailändaren Yodkhunpon Sitmonchai.
FIGHTCARD:
Buakaw Banchamek VS. Niclas Larsen Sibmuen Chuwattana VS. Louis Cajaiba Jomthong Chuwattana VS. Yohann Drai Petchrahu So Wanic  VS. Khunsuknoi NguyenTang Quyen VS. Carlos Coello Vasily Alex Sarokin VS. Kompikart Petchtanong Banchamek VS. Sergei Kuliaba
Collection 2019
Sale 70% Off
Title for image