Domaren dömde matchen 'No Contest' efter misstänkt fusk
Posted by ASKARI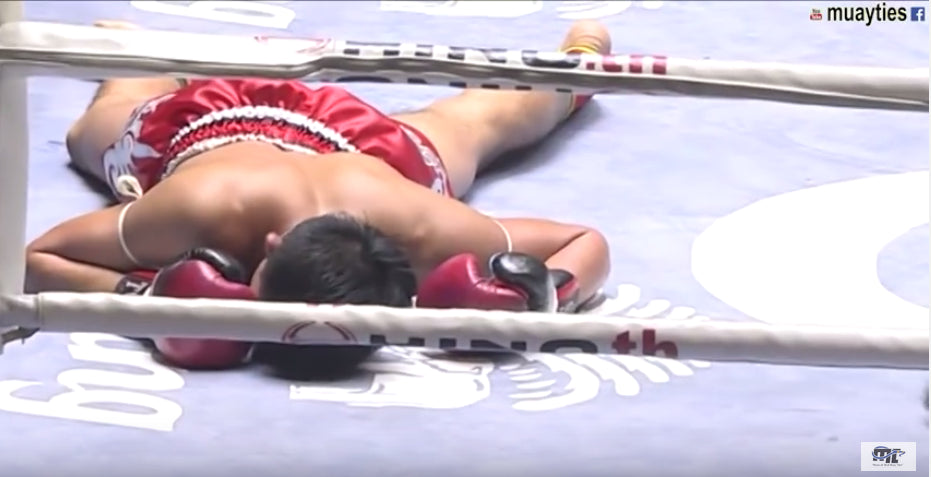 Domaren i New Lumpini Stadium misstänkte att fightern blev avsiktligt knockad och dömde matchen till en 'No contest'.
Gamblers fyller alltid upp arenans tomma platser och är vilda i sin betting men samtidigt så bidrar vissa av dom till korruption. Fighters och domare kan ofta bli mutade, vilket gör att dom kan välja att avsiktligt förlora en match för rätt mängd pengar eller låta fel hörna vinna. Det händer inte så ofta att en domare i Thailand dömer en match 'No contest' ifall han misstänker att den ena fightern har avsiktligt lagt sig. Men domaren i den här matchen gjorde dock något ovanligt och lät inte blå hörnan gå hem som vinnare. Man hör speakern efter domslutet säga:
" There is no decision in this fight, because the fighter in the red corner does not fight at a Muay Thai standard."
Med andra ord misstänkte domaren att något skumt var på G Vissa arenor kan förbjuda en fighter att tävla mer om dom visar brist på insats eller lägger sig.
Det är bra att se en domare vidta åtgärder när han ser en misstänkt läggning vilket kan behövas oftare i Thailand.
Mongkonchai Kwaitonggym
(123lbs,RED) vs
Suakim Sit.Sor.Tor. Teaw
(125lbs,BLUE)
Collection 2019
Sale 70% Off
Title for image