Joakim Hägg vs Andreas "AndyCandy" Iversen på Lion Fight 59
Posted by YOUSSEF ISSA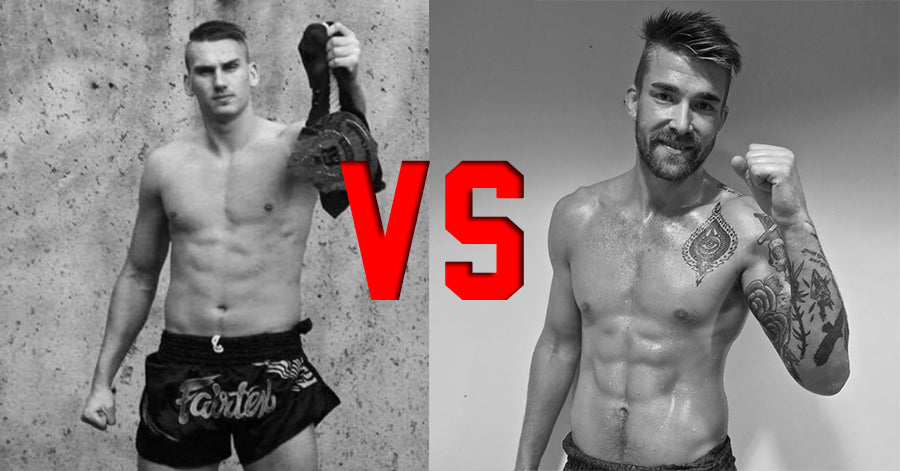 Nordiskt stormöte när ännu en match släpps inför Lion fight 59
Den rutinerade och konditionsstarka Joakim Hägg från Göteborgs Muay Thai ställs mot den tvåfaldige norska mästaren Andreas "AndyCandy" Iversen från Nakmuay i Norge.
Joakim Hägg (22W-14L-0D, 6 KO's) är ett rutinerat namn i branschen. Han har gått mot många av de tuffaste namnen och deltagit på flertalet stora galor som t.ex Glory 29 i Köpenhamn. I höstas blev han uppmärksammad då han tog en VM-titelmatch på kort notis och flög till Los Angeles för att debutera för Lion Fight. Där gick han en av sina tuffaste matcher i karriären hittills mot dåvarande Lion Fight mästaren Regian Eersel (nuvarande titelhållare i ONE Championship).
"Jag tar stolthet i att ta så tuffa matcher jag kan, denna matchen är inget undantag. Jag vet att Andreas är tuff men jag kommer väl förberedd och jag älskar att fightas på hemmaplan. Det kommer att bli ett krig." - Joakim Hägg
Han ställs mot den hårtslående norrmannen Andreas "AndyCandy" Iversen (14W-5L-0D, 11KO's) från Nakmuay. Han är precis som Joakim väldigt rutinerad och har tävlat på flertalet stora galor runt om i hela världen. Han blev i höstas runner-up i en 4-manna turnering i Estland för organisationen KOK. I finalen föll han mot den numer OS satsande svensken Constantino "Costas" Nanga. Andreas har även matchat på stora Faith Fight i Kina och vann nyligen Norska mästerskapen för andra gången i sin karriär. Sedan tidigare är han även ISKA Amatörvärldsmästare 2016.
"Jag har all respekt för Joakim och den erfarenheten han har. Men jag kommer till Sverige för att vinna. Det finns inget tvivel om vem som ska bli King of the North." - Andreas Iversen
Detta blir en kamp mellan två herrar som båda har velat möta varandra sedan tidigare men det har inte blivit av förrän nu. I sociala medier har det redan börjats prata om vem av de tunga herrarna som skall få titulera sig "King of the North" den 31/8 på Kooperativet i Göteborg.

Under veckan kommer arrangörerna att släppa ytterligare en matchning på ett redan nu spännande fight card. Även den lovas bli en tung internationell matchning mellan två högexplosiva fighters.
Biljetter till galan finns att köpa här, https://bit.ly/30mOfHE
Collection 2019
Sale 70% Off
Title for image